New Website Design That Improves User's Experience
The Crescent Shopping Centre is one of Ireland's largest retail destinations in the heart of Limerick City. With a history dating back over 50 years, the shopping centre has long been a popular choice for shoppers in the area. Recently, the mall's management team decided to undergo a major website redesign in order to improve the overall user experience and make it easier for customers to find information about the shopping centre and its stores.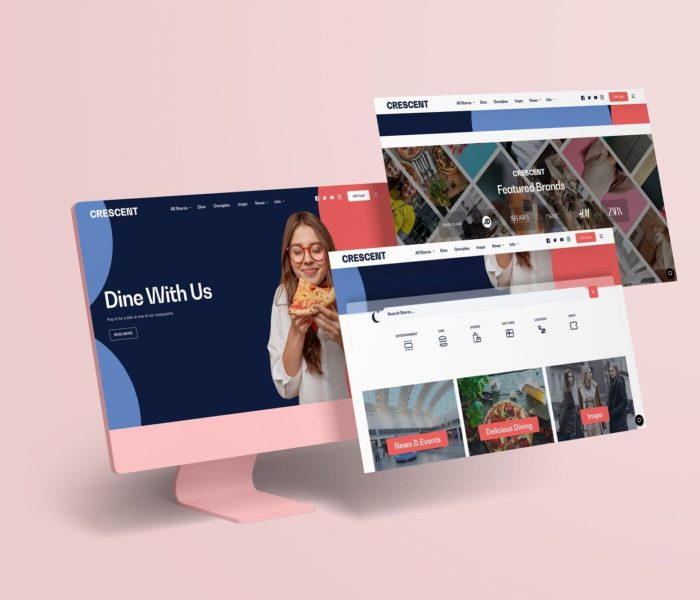 Modern, Clean & Clear Navigation
Our main challenge in redesigning the Crescent Shopping Centre's website was to replace its former cluttered and confusing navigation system with an intuitive, user-friendly interface. Customers had previously struggled to locate the information they needed due to the site's complex layout and lack of clear direction.
Brainstorm stepped in to overhaul the website and address these issues. Our goal was to create a contemporary, streamlined website that would effortlessly guide users to the information they sought. The transformed website boasts a minimalist design, featuring clear navigation cues and prominently placed calls to action, making it easy for customers to interact with the site and effectively enhancing their online experience.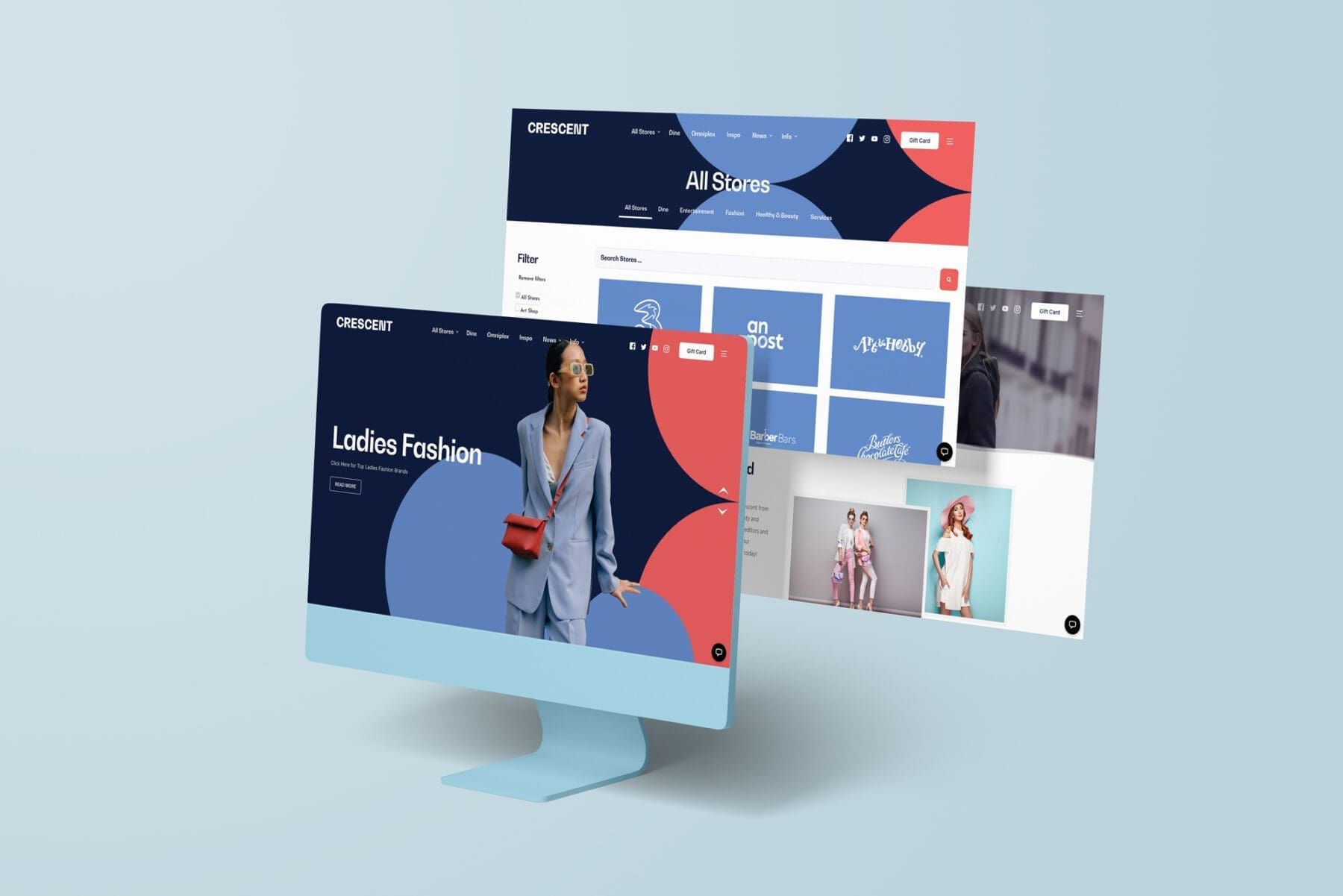 The new design has been a huge success, with traffic to the website increased by over 3,375% in the first month alone. The shopping centre's management team has received numerous positive comments from customers about the improved user experience. In this case study, we will highlight some of the standout features of the redesigned website.
The Homepage
The homepage of the Crescent Shopping Centre's website features a large, eye-catching banner with information about the shopping centre, as well as links to the most popular pages on the site. The top of the page also includes a search bar, making it easy for users to find specific stores or information.
The Store Directory
One of the standout features of the website is the "stores" section, which allows customers to filter through the mall's stores by category. This makes it easier for customers to find the stores they are interested in and access information such as store hours, location, and contact details.
The Inspo Page
In addition to the "Stores" page, the site also includes an "Inspo" page, which provides inspiration and ideas for customers looking to shop at the Crescent Shopping Centre. This includes style inspiration, gift ideas, and more.
Custom Integration: Omniplex Ticket Booking
One of the unique features of the new website is the custom integration that allows customers to book cinema tickets on Omniplex directly on the site. This integration makes it easy for shoppers to plan their visit to the Crescent Shopping Centre and purchase tickets for their preferred movie and showtime.
AI Live Chat Assistant
As part of our comprehensive design solution for the Crescent Shopping Centre, we also integrated a state-of-the-art AI live chat feature into their website. This advanced tool serves as a digital assistant, available 24/7 to answer customer inquiries, provide information, and guide users through the website.
Achieving a 3375% Upsurge
When we embarked on our journey with Crescent Shopping Centre, our objective was crystal clear: completely revitalise their digital persona and stimulate an unprecedented surge in traffic. This ambitious aim would necessitate the deployment of cutting-edge performance optimisation and sophisticated SEO mechanisms. Here's how we turned the tide:
Performance Optimisation
Our inaugural step was to conduct a thorough assessment of the existing website, pinpointing areas that required enhancement. We discerned that slow loading speeds and a sub-optimal mobile interface were inhibiting website traffic.
In response, we implemented a series of performance improvements. This involved optimising imagery, refining the underlying code, and introducing a content delivery network (CDN) to expedite loading speeds on a global scale. We also overhauled the mobile experience, ensuring seamless and intuitive navigation, regardless of the device utilised.
SEO – Search Engine Optimisation
Simultaneously, we recognised that SEO would be a linchpin in augmenting traffic growth. We commenced with comprehensive keyword research to ascertain the terms potential visitors were utilising to discover services akin to those provided by Crescent Shopping Centre.
Equipped with these insights, we optimised website content and meta tags to align with these keywords. We also dedicated our efforts to enhance the site's backlink profile, eliminating toxic links and prioritising the acquisition of high-quality ones from authoritative domains.
Furthermore, we harnessed advanced SEO tools to pinpoint and rectify broken links, generate XML sitemaps for improved indexation, and structure the website data for more effective interpretation by search engine crawlers.
The Outcome
By amalgamating performance enhancements with a robust SEO strategy, we were successful in driving a staggering 3375% increase in traffic for Crescent Shopping Centre. This achievement wasn't a quick fix but the fruit of diligent, strategic endeavour. We take immense pride in this result, but more so, we are exhilarated by what it signifies: a testament to the fact that with the right tools and strategies, extraordinary digital growth is attainable.
Overall, the redesign of the Crescent Shopping Centre's website has been a huge success, with traffic to the website increasing significantly in the first month alone. The mall's management team has been delighted with the results and has received numerous positive comments from customers about the improved user experience. The new website has helped to strengthen the Crescent Shopping Centre's position as a leading retail destination in Ireland.
What was your favourite part of the process when working with us?
"Brainstorm was so easy to work with, there was very little lost in translation and the transfer from our old site to our new site was done with absolute ease with no downtime. Dave's eye for vibrant imagery and modern vibes was evident from the get-go as the building blocks of the site began and it was clear to see we were in good hands. It's one thing being good at coding and website building but it needs to marry with a good understanding of brand values and an eye for arresting imagery and Brainstorm brought all of that to the table and more."
Would you recommend our services to others? If so, why?
"Yes, number one… Brainstorm takes the time to understand your business – for us, the difficult task is we are a brand in our own right but also need to market multiple other brands under one umbrella – Dave streamlined our look so that it was very easy to find what you were looking for and keeps in touch to feed in new ideas and concepts which he feels would benefit Crescent as we move forward."
What were the benefits you walked away with? Both how you felt and the tangible quantitative results?
"Brainstorm produced a great, user-friendly automated site, one that can be adapted and changed with ease as we move through changeable times in retail. He also made the site extremely user-friendly for our own team as the ability to update and change elements of the site independently was crucial for a business like ours where updates need to be made instantaneously. The site is now also optimised so that we can understand our website traffic and use this data to inform our campaigns – again another crucial area for us."
Grainne O'Rourke, Marketing Manager, Crescent Shopping Centre
Are you ready to grow your business?